Bollywood has given us babies that look simply adorable and hard to resist but none as loved and adored as Taimur Ali Khan Pataudi. The first child of newlywed Bollywood couple Kareena Kapoor Khan and Saif Ali Khan, Taimur has managed to make the netizens go "Awww" with his adorable smile and perfectly Nawabi moves.
The Likes and Dislikes
Pic Credit: Source
Recently, Taimur's father, Bollywood actor Saif Ali Khan, opened up with regards to the likes & dislikes of his son who has already turned 2 years old. He stated that Taimur recently started chewing down on solid food items and mashed carrot and pears are among his favorites.
According to his father, the chubby little hunk wakes up at 7 am early in the morning when most of us are dreaming about our fantasies. The father-son duo spends at least 20 minutes together before the actor rushes off for his daily shooting schedules. The "Chote Nawab" also loves to listen to some music or to be read some stories or rhymes by his father. The day for Taimur starts with Aarti making it a positive day for the toddler.
Not just that, Chote Nawab gets to spend his night too with his father if he manages to stay awake till 8 pm. His day ends with music from Tchaikovsky and Chopin. Known for his comical timing, Saif also added that most of the time Taimur is all about farts and burps just like he does.
Adorably cute as he sleeps
Pic Credit: Source
Recently, the social media platform got overloaded with the cutesy pie's pic as he slept on his Nanny's arms. Here are some of the most adorable pictures from his daily life.
Still adorably cute as he welcomes the morning light not with a smile but with a cry.
Pic Credit: Source
Pic Credit: Source
Taimur playing along on the swing!
Pic Credit: Source
Taimur with Karan Johar's son Yash Johar.
Fun with Cousin Sister
Taimur, Who loves to be called by his nickname "Tim" can often be seen spending time with her cousin Inaaya Naumi Khemmu. Inaya is the daughter of Soha Ali Khan & Kunal Khemu. The brother-sister duo always manages to make the paparazzi chase after with their hunky-dory & adorable looks.
Pic Credit: Source
Political Play
Even with no apparent connection of Taimur and his family with politics, he was recently compared with the fresh political entry from the Congress front. BJP MP Poonam Mahajan recently compared Priyanka Gandhi with Taimur stating that its nothing but a child entering into the world of politics.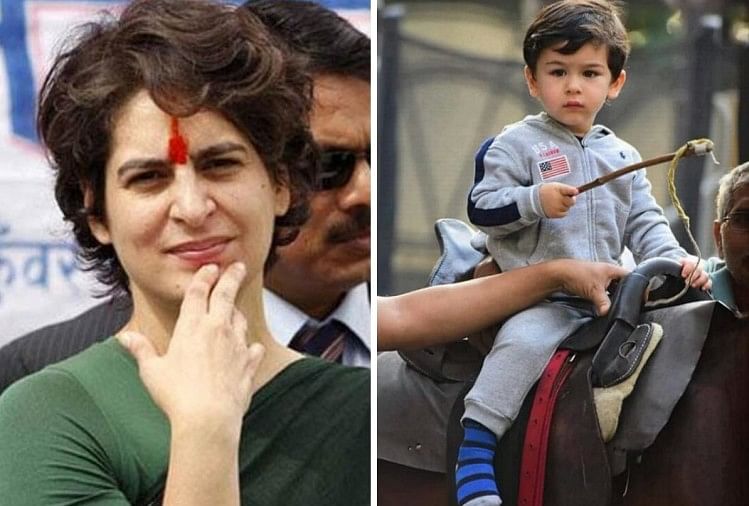 Pic Credit: Source
Fun Facts:
1-Conversing about Taimur's brother-sister fun relationship with Soha's daughter Inaaya, Saif mentioned that out of the two, Taimur is the "Gunda" brother who just might pull her hairs.
Pic Credit: Source
2-Taimur recently had a doll named and designed after him by Kerala based doll makers. To this, Saif commented in witty and light-hearted humor that he just might trademark Taimur's name or maybe he is entitled to one of the dolls.
Pic Credit: Source
3-Saif also mentioned that producers often approach him for taking Taimur for a quick movie promotion given his popularity with the netizens. While Kareena might not be all game for the same, Saif is eager to get him going with good ads for nappy or similar products.
Pic Credit: Source
4-When conversing about paparazzi at Koffee with Karan, the well-known talk show by Karan Johar, he laughed about at the fact that each picture of Taimur acquired by the Paparazzi is sold at INR1500.
Pic Credit: Source